In the past several decades, the United States economy experienced a mass amount of growth due to Hispanic-owned businesses. Hispanic-owned businesses contribute roughly $800 billion to the U.S. economy and open their doors at a rate of more than triple that of non-Hispanic-owned businesses. These businesses create jobs, generate revenue, and stimulate economic growth in various industries.
If you are a part of the LatinX community and want to start your own business or open a franchise, this is a great time to do so. Hispanic-owned businesses reach a demographic that desires cultural influences and thus increases Hispanic business market size. This article is a review of the increasing significance, economic impact, and growth of Hispanic-owned businesses.
Growth Opportunities for the Latino and Hispanic Industry
One of the reasons for the increase of Hispanic-owned businesses is due to a larger number of consumers who meet demographics, market demand, and have a high desire for cultural influences. Below are the ways these factors have contributed to the success of Latino businesses.
Demographics and Market Size
Hispanic business market size continues to get larger in the United States. This is because there are more demographic groups that demand the products and services offered by the Latino and Hispanic industry. The impact of Hispanic-owned businesses is correlated to the Hispanic entrepreneurs that exhibit the drive to create new businesses across various industries.
As the growth of Latino businesses increases, so does the purchasing power and financial resources of their employees. This presents opportunities for other similarly-cultured entrepreneurs because it allows them to successfully target and convert their ideal demographic.
Market Demand and the Growth of Latino Businesses
The growth of Hispanic-owned businesses also enlarges demand for specific goods, products, and services. If you are considering your own career change as a LatinX entrepreneur, the Hispanic business market size is an opportunity for profitability.
There is a consistent market desire for new restaurants, bakeries, and grocery stores that carry authentic cultural food. Additionally, cultural goods such as clothing, art, crafts, and music are increasingly popular. These attract people who value rich cultural and dining experiences.
There is also opportunity if your area of expertise is specialized. As the Hispanic population rises, so does the demand for specialized professional services. Insurance, legal, financial, and healthcare services for this group are necessary and they offer a way to give back to your local community.
Cultural Influences
Hispanic-owned businesses can leverage their cultural influence to connect with their community. Offer products, services, and experiences that resonate with Hispanic consumers to create a loyal customer base. Products and services that align with cultural celebrations, traditions, and holidays are especially profitable during relevant times of the year.
The LatinX community values and prioritizes supporting local businesses. Thus, the benefits for any local business is twofold for profitability: consumers provide consistent revenue and they assist in Latino business growth.
Challenges Faced by Hispanic Entrepreneurs
The biggest barriers that impact Hispanic-owned businesses are limited access to capital and potential language barriers. These challenges affect their ability to start and grow a successful business.
Attaining capital and securing funding is diffcult because this population has limited finances, lower credit scores, and a lack of access to traditional banking networks. For some, an added language barrier creates more challenges. This affects networking opportunities, customer engagement, and access to business resources.
There are strategies and government support initiatives to help minorities in their efforts. Government-backed loan programs that provide capital for minority entrepreneurs like the Small Business Administration (SBA) help those who have trouble securing traditional financing. There are also government-funded business development centers that provide counseling and training tfor essential business skills.
Support initiatives include programs that offer government contracts for minority-owned businesses. Initiatives like this can help business owners get the resources they need to compete on a level playing field in the government contracting market. Additionally, there are government offices that can assist minority-owned businesses with bidding and securing necessary government contracts.
There are challenges to starting any business, but those that limit access to capital and language barriers can be overcome. Thanks to government-funded resources and support for hispanics, there are additional ways to remove these barriers and level the playing field.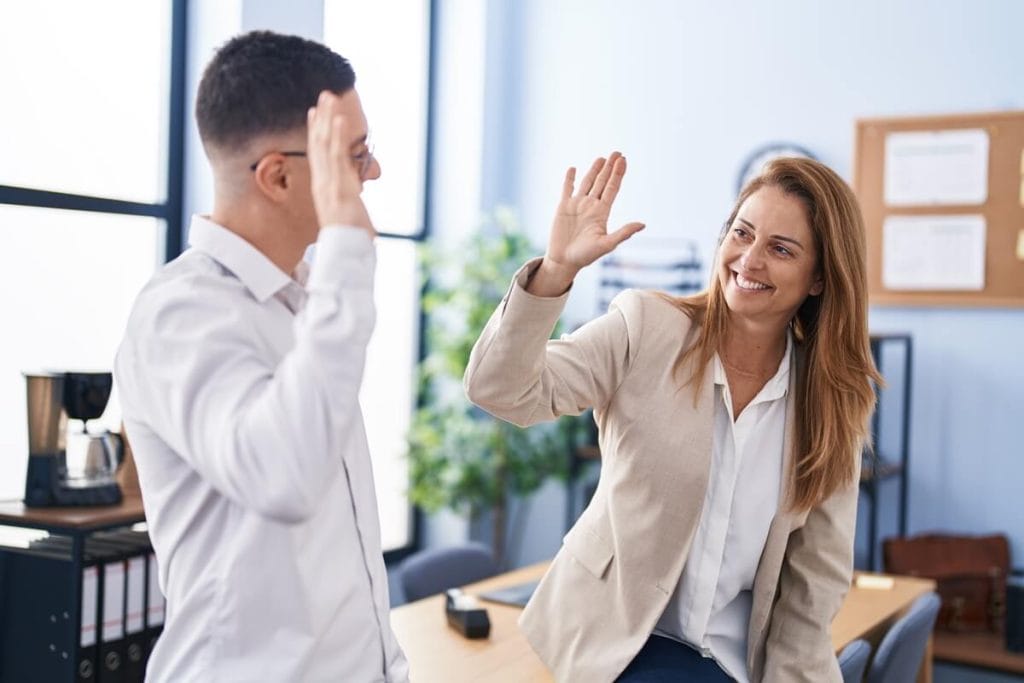 Tips for the Growth of Latino Businesses
Leverage your cultural identity: Selling what you know helps you reach your target audience. A loyal consumer base comes from understanding what your customers want. When you know what your audience desires, you can create offerings they need.
Networking and relationship building: Talk to people in your community and attend local networking events. Join business associations and collaborate with other business owners. Strong relationships can help get your foot in the door to the opportunities, partnerships, funding, and other resources you may need.
Bilingual and multicultural outreach: When possible, offer bilingual customer support. This will allow you to connect with more people that will convert into customers. It will also encourage word-of-mouth referrals, which isone of the most powerful drivers of Latino business growth.
Breaking Barriers: Growth of Hispanic-Owned Businesses
The economic impact of Hispanic-owned businesses is increasing rapidly. The drivers of successinclude the following: an increasing number of people who meet target demographics, more market demand, and reaching customers who want more cultural influence. If you are ready to start your own business, Freeway Franchise offers support, training, marketing, investment quality products, and more.
Visit our website or call (877) 822-3024 to learn more.