Answers to the Frequently Asked Questions About Opening a Freeway Insurance Franchise
What experience do I need to become a Freeway Insurance franchisee?
We seek financially qualified, business-savvy professionals who understand the importance of excellent customer service. Freeway Insurance customers trust their agents and count on them for a respectful, convenient experience. Our franchise owners must be business builders who are enthusiastic about our brand and its unique placement in the insurance industry.
What does Freeway Insurance provide as part of its franchise program?
Before you open your Freeway Insurance location, we will provide virtual training, as well as an initial training session, which includes classroom and on-the-job training for 10 days. Our training program gives you an overall understanding of the insurance industry, with a focus on high-risk applicants. We also explain our office operations, our products and services, and our marketing and sales programs. You will also gain access to our exclusive confidential operations manual to help run your Freeway Insurance franchise smoothly and efficiently. As a Freeway Insurance franchisee, you will also have access to our video and interactive course library of self-paced e-learning.
Are there any ongoing fees?
We charge a 15% royalty fee on total sales commissions and ancillary revenue and a $650/month technology fee for a one-person location. The percentage is based on the state in which the franchise is located. Fees such as these allow us to fund our ongoing support services and the continued development of products, marketing tools, training programs, and system upgrades. For a full list of fees and requirements, please refer to our Franchise Disclosure Document (FDD).
Are there any advertising fees?
Freeway Insurance franchise owners must contribute 2% of sales commissions and ancillary revenue to our brand-marketing fund. Collected funds are used to develop network-wide marketing strategies and materials used to promote the Freeway Insurance brand.
What is the term of the agreement?
The initial term of your agreement is five (5) years, with three (3) subsequent successor agreement renewal options of five (5) years each.
How do I get started?
If you are interested in learning more about opening a Freeway Insurance franchise, contact us at (877) 822-3024 or contact@freewayfranchise.com. You can also reach us by filling out the form provided on this site to set up a meeting with one of our franchising representatives who can provide all of the important details you will need to make an informed decision.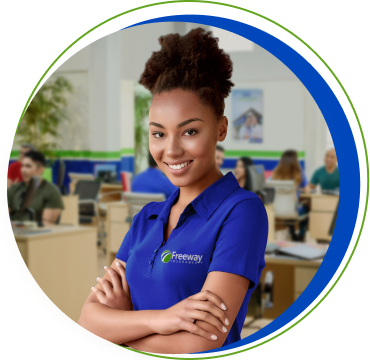 Ready to Open Your Own Freeway Insurance Office?
If you find the Freeway Insurance brand compelling and are looking for a flexible, well-supported business in a rewarding niche of the dynamic insurance industry, contact us.